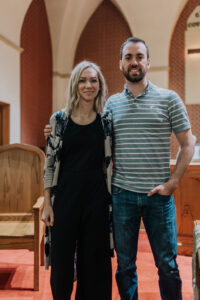 We designed our youth program to reach the teenagers in our community. It is lead by our youth director, Clint, and his wife, Deanna, with several other volunteers, immerses students (grades 7 through 12) into the Word of God. We strive for an environment of safety, stability, mutual respect, and fun! Everything we do here reflects the truth of the Bible, and teaches the value of living life for Jesus. We explore topics such as finding identity in Christ, peer-pressure, and the reliability of the Scriptures, and answer questions like "What is God like?," "Does God care about me?," and "Why do I exist?".
These, and many other compelling topics, make youth group so much more than just an educational experience – it's an exciting and uplifting time of discussion and growing closer to God.
Gatherings
Our youth meet every Sunday morning during Small Groups, and also every Wednesday, from 7:00 PM to 8:00 PM, for youth group. We often run special events, and sometimes join in with the Young Adult group activities.
For updates on events and meetings, be sure to check out our Facebook page.