Accept The Gift Of Grace: 3 Tips On How To Make Grace Actionable.
"Let us then approach God's throne of grace with confidence, so that we may receive mercy and find grace to help us in our time of need." Heb. 4:16
Two weeks ago in my bible study group, we were studying the concept of Grace. A couple of the ladies confessed they didn't understand it, let alone knew that there were different kinds of grace.
There are three different kinds of Grace
Saving Grace: The one who allows coming to God for salvation. Ephe. 2:8
Sanctification Grace: The one that helps you in your spiritual growth. Rom. 6:14
Suffering Grace: The one that helps you in the midst of suffering. 2 Co. 12:9
Today I want to talk about Sanctification Grace. It means: "unmerited divine assistance given from God to humans for their regeneration or sanctification (or spiritual growth)" Merrian-Webster . Therefore, even though we have a responsibility for our spiritual growth, we are not doing it on our own strength and ability – we have God's favor to hold you, guide you, and liberate us.
We should be thankful for God's Grace toward us
As we continue the Thanksgiving topic this month, I felt drawn to talk about Grace. Because of it, we don't need to be fearful thinking we don't have what it takes to grow spiritually nor we have to walk on eggshells worrying about messing things up.
It helps us to live freely. It empowers us to live captivating lives and to break up the cycle of shame and guilt because we understand we are humans and we are not able to walk the Christian life without God's help. It's not depending on us, it's depending on how much we trust in God.
Realizing our spiritual growth it's about trusting God, should eliminate a great burden from our lives; should make us more understanding towards others because we realize they need Grace too, and should shift our focus from us to God – He's is the one empowering us to live beautiful Christian lives.
Grace it's not something we deserve, it's unmerited
The idea it's not to try to buy it with your good works, it's rather than because of it, we want to have lives that overflow with good works. When we are able to understand we don't deserve it, yet we have it, we can stop condemning ourselves for our mistakes, which leaves room to serve and care for others better.
When we receive it as a gift it removes all pressure from us. We accept it would be impossible for us to live perfect lives – and God never intended for us to do it. This leads us to live authentic lives because instead of investing all our energy in perfection and condemnation, we invest it in discovering who we are called to be. As we go through this discovery journey, we also learn to laugh at ourselves and enjoying life more.
Actionable Grace
As we understand and welcome it in our lives, it's important to realize that more than a religious concept it is a very applicable one.
When feeling frustrated we keep struggling with the same sin over the years – pride, overeating, overspending – we need to apply it into our lives by stop being so critical towards us – thinking we are a failure and won't ever change. We need to accept that, while we want to obey God, we still live in a fallen world with fleshly desires.
When we think we are not making any progress in our spiritual growth, let's apply it by not comparing ourselves to others. It's unhealthy if we start to look at other people's progress, instead, we should look back and see where we started. If we are at least five percent better than three months ago, let's celebrate and enjoy it.
When we feel doomed to go down the same sinful path every time, "Let us then approach God's throne of grace with confidence, so that we may receive mercy and find grace to help us in our time of need." Heb. 4:16. God never sets us up for failure. As a Good Father, He is always cheering for us and waiting for us to call for his help and favor.
Grace is a gift, receive it today!
PD: If you want to know more about the other kinds of Grace, you can find more good stuff in the Seeking Him Bible study by Nancy Demoss Wolgemuth, get it in Revive Our Hearts.
---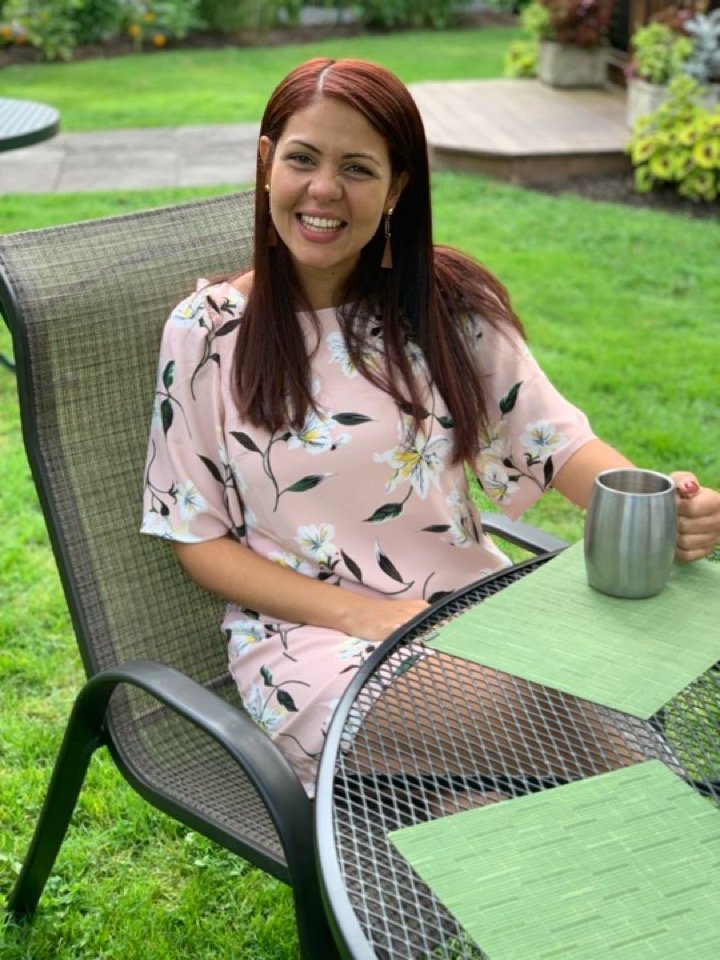 About the author: Anyeline is a mom to one, lover of Jesus, and enjoys a great cup of coffee. She is originally from the Dominican Republic, but is now a proud U.S. citizen. When visiting our church, you can find her teaching our young adult women or helping out in children's ministry. She always has a smile and a warm greeting for friends and strangers alike.